Tommy Hale & The Magnificent Bastards
Friendship and nostalgia, love and loss, execution and murder, and sporting customs that only a resident of Texas will understand – these are just a few of the subjects that inspired Tommy Hale when he sat down to write his new album, the cheekily titled 'Magnificent Bastard.' Eight years on from his last release, the Dallas-based singer-songwriter returns with nine songs whose recording he describes as "emotionally difficult," though the resulting LP is unarguably his most rewarding.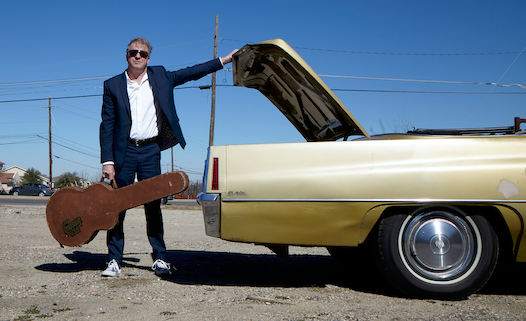 Recorded in Wiltshire, England, with his friends from acclaimed alt-country outfits The Snakes and The Redlands Palomino Company, the record – Tommy's third as a solo artist – draws on a wealth of musical styles, from gospel-tinged soul and country duetting to delicate pop balladry and driving rock 'n' roll, while at its centre sits its author's unmistakable voice. Fragile and reflective one moment, bristling with soulful intensity the next, it's a unique ingredient of Tommy's music, and one that has aided his rise, over 20 years, from frontman with raucous cult rockers Swank Deluxe to multi-faceted solo performer and respected face on the Dallas music scene.   
'Magnificent Bastard' carries the weight of this history and more, mixing punk and '70s rock influences on the brooding Backburner, reminiscing over a well-spent youth on the title track – an infectious rocker that frames old friends as heroes and old lives as legends – and unravelling threads that stretch back to Tommy's childhood.   
In the wistful Homecoming Mum, the singer recalls the schoolboy practise of buying elaborate wearable bouquets for their sweetheart – a Southern tradition at homecoming football games ("I realised just a few years ago that that's weird") – while the album's centerpiece, the anthemic Save Me (The Ballad of Odell Barnes, Jr), finds him pondering the path and plight of a high-school friend who was accused of murder and ended up on Death Row. Tommy describes this song, which he started to write eight years ago, as "the most important story of the record."
"It really affected me," he says of the moment he found out that Barnes, who Tommy hadn't seen since his late teenage years, had been killed by lethal injection in 2001. "I don't know if he did the murder or not, or anything like that, but I want people to know what it is and to know the story. I don't know how popular that'll be in Texas, because most people are a little bit more pro death penalty than I am, I guess." 
Death looms large on another of the album's tracks, Sonrisas y Sunshine, which takes inspiration from a Mexican musical style called narcocorrido to tell the tale of a man seeking eternal fame via a suicide pact with his girlfriend – though it turns out that she has other ideas. "She's like, fuck you, and she kills him instead," says Tommy. "It amused me, the whole idea." There's dark amusement to be found, too, in Just How She Died, a playful country duet that Tommy describes as "a throwback to old George Jones," in which he wonders whether the one-time object of his affection has expired – and if so, how it happened – or whether "she's just dead to me."
While these character pieces showcase Tommy Hale the storyteller, others suggest he has naked sincerity licked, too. Can I Lay Down Next To You? and Simple Song, the album's most tender tracks, make the listener feel as if they're eavesdropping on private moments in their author's life. In fact, so direct is the latter song that the singer felt himself squirm when he played its demo version to producer/guitarist Simon Moor and multi-instrumentalist John O'Sullivan – the album's co-writers and two people who, alongside drummer Dan Tilbury and keyboardist/engineer Nick Beere, make up a creative team for whom Tommy has "tremendous respect."
"I think this is hands down the best collection of work I've ever put together," he says. "And a lot of that's because of the talents of all those other guys."
Clearly, not everything is bigger in Texas, because this resident's ego remains happily and humbly dwarfed by his gifts for writing and performing. Don't be fooled by that title. 'Magnificent Bastard' isn't a boast; it's a celebration of past adventures, a purging of recent emotions and, in its closing track – a haunting cover of Bill Withers' Hope She'll Be Happier – an acceptance of the future, whatever it might bring. As its final note resonates and decays, and the radio that's been crackling along in the background finds its tuning for one brief moment, it feels as if the record drifts into thought.
For Tommy Hale, a man on the cusp of his third decade as a singer and songwriter, it's the perfect place to be.